Vehicle Clean Remediation Kit
kit includes:
1 Bio-Static Generator
1 BioCide 100 Quart
1 Sprayhead
1 Towel Kit
We are unable to ship this product outside the continental United States unless you make special arrangements, please call for further details.
PRODUCT REVIEWS
BioCide products can't be beat. If you have mold or water damage the products are worth every penny!
-Pete

President, United Mold Services
Just wanted to say that BioCide 100 is my new best friend!! I originally purchased this product because i had noticed a bit of mold growth around the shower in my guest bathroom. I used it for the mold and then decided to go ahead and try it out in different areas of my home. Man am I glad I did. This product is one of the best degreasers and disinfectants that I have ever used!! I am now an avid user of BioCide 100 and will be a life long customer!
-Steph

Great product works excellent thank you for saving me hundreds of dollars on removal!
-Scott

We Talk You Through the Process
The prospect of beginning a mold remediation project can be intimidating. We at BioCide Labs understand that and can walk you through the entire mold remediation process step by step over the phone. Our trained experts are here to assist you from start to finish.
How safe are our products?
Our products are very safe to use in home and work environments. EPA has classified many of our products as hospital grade disinfectants. This classification makes them one of the safest antifungal antimicrobials available on the market today. BioCide Labs products are safely used in schools, daycares, food manufacturers, hospitals, and homes across the country. We pride our self on helping keep our clients home and work a clean and healthy place to be.
Click to learn more about the products in the Vehicle Clean Remediation Kit.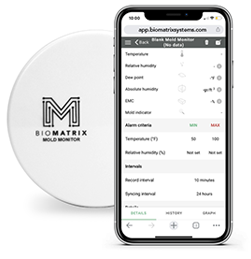 BioMatrix Mold Monitor
The Biomatrix Mold Monitor can predict and identify mold growth in your home or place of work. This revolutionary smart home-enabled system combines cutting-edge devices with an industrial hygiene team to help identify present and future mold contamination. Prevent mold from growing out of control with the Biomatrix Mold Monitor.
AirSafti Air Scrubber
The First Professional HEPA Filtration Designed for Homes.
AirSafti Air Scrubber filters down to 0.5 micros. Filtering out Mold Spores, Fine and Ultra-Fine Particulate, some Disease-Causing Bacteria, Pollen, Dust, Insulation Fragments and more. AirSafti Air Scrubber Eliminates Major Mold Spores from the Air in Minutes!