Air Scrubber
AirSafti Air Scrubber
The First Professional HEPA Filtration Designed for Homes.
The AirSafti Professional Air Scrubber is a three (3) speed, remote controlled, quiet, well-built steel unit that forces up to four hundred (400) Cubic Feet per Minute (CFM) through its powerful HEPA rated 2 stage filter system, filtering down to 0.5 microns. Filtering out Mold Spores, Fine and Ultra-Fine Particulate, some Disease-Causing Bacteria, Pollen, Dust, Insulation Fragments and more.
Your whole family will breathe easier from day one. You'll have the confidence that you've made the right choice! While other quality Air Scrubbers of this size sell for $700.00 to $900.00, the AirSafti unit remains the KING priced at only $399.00 with a Five (5) Year Warranty.
Eliminates Major Mold Spores from the Air in Minutes!
PRODUCT REVIEWS
When I had mold my whole family was sick. There was so much conflicting information on the web. Finally, I called a mold inspector she said, "The first thing you have to do is lower or eliminate the mold spores and mold toxins in your environment. The fastest way to do it is to scrub the air". She told me about the AirSafti Air Scrubbing machine. It made sense so I ordered one. I got my unit in two days, unboxed it, plugged it in and within 15 min my whole family could feel the difference. It makes sense, if you scrub the air clean you're not breathing mold!
-J. Warble

I told my apartment complex there was mold in my unit. They did NOTHING! I had no real money to move as I am on fixed income. I looked all over the internet and found BioCide Labs. The man was very nice and told me about the AirSafti Air Scrubbing machine. So, I took a chance because I had no other real choices. It was the best decision I ever made. The machine keeps my apartment air clean and I don't feel the mold any more. I am still trying to move out, but right now this machine is saving my health.
-M. Streug

If you have mold and don't have the money to move out of where you're at or get mold remediation done, this Air Scrubber thing is the only way to go! What a difference, I felt the change in the air with minutes. I can already tell you this is also going to save me when allergy season comes.
-C. Lightner

We Talk You Through the Process
The prospect of beginning a mold remediation project can be intimidating. We at BioCide Labs understand that and can walk you through the entire mold remediation process step by step over the phone. Our trained experts are here to assist you from start to finish.
Why Turn to The AirSafti Unit?
So, You Have a Mold Problem:
The Landlord won't do anything, you know your environment is mold contaminated and you have nowhere to move to
The landlord is slow and not doing the right things moving forward to test or clean up the mold
The landlord tells you it's not mold, but you know your family is sick
Your place of work tells you nothing's wrong, but you know the work area is mold contaminated
You're not able to get out of the mold contaminated environment as quickly as you would like due to circumstances
Professional mold remediation is too expensive
You can't get a Mold Service Professional out anytime soon to evaluate your problem
You're not sure about your environment and your mold tests and inspection report won't be ready for sometime
You know you have mold and you're trying to plan the right things to do and need time to figure it all out, but you and your family are getting sicker by the day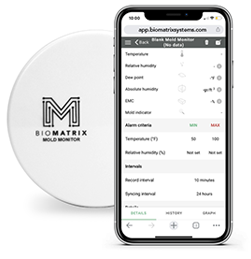 BioMatrix Mold Monitor
The Biomatrix Mold Monitor can predict and identify mold growth in your home or place of work. This revolutionary smart home-enabled system combines cutting-edge devices with an industrial hygiene team to help identify present and future mold contamination. Prevent mold from growing out of control with the Biomatrix Mold Monitor.