BioCide Labs Mold Safety Kit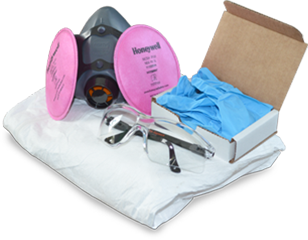 BioCide Labs Safety Kit
Save 20% with the purchase of the mold safety kit
Get complete protection from mold exposure with the BioCide Labs Safety Kit. We offer the same equipment to the general public that a professional remediation company would use to get the job done. In this kit is everything you would need:
Half Face Respirator
Particulate Filters
Nitrile Gloves
Protective Suit
Protective Eyewear
PRODUCT REVIEWS
I know how hazardous mold can be so I also purchased the safety kit with the biocide 100 and everything worked great.
-Karl

All the components fit together very well. It took me about 10 minutes to get used to the face mask, then I hardly noticed that I was wearing it. This suit is very comfortable and the gloves and eye ware are pretty stander stuff. Overall the entire kit did a great job!
-Josh

Light and easy to breathe through, I don't feel like I'm struggling for air like with some respirators. The filters protected me form the mold spores, I can't smell any mold when I'm wearing this mask. This is a great respirator. Strongly recommended.
-Cary

We Talk You Through the Process
The prospect of beginning a mold remediation project can be intimidating. We at BioCide Labs understand that and can walk you through the entire mold remediation process step by step over the phone. Our trained experts are here to assist you from start to finish.
Protective Eyewear
Protect your eyes with anti-scratch lenses for
optimum vision and a non-slip fit to help
prevent injuries.
Nitrile Gloves
Nitrile disposable safety gloves for
hand protection are great for you mold
remediation. Our gloves provide superior
strength to resist abrasion, tears, and are
textured for a sure grip making these gloves a
smart choice.
Protective Suit
This is a protective and disposable mold
remediation suit designed to help protect skin
and clothing from mold exposure. This industry
standard suit is made from top of the line composite
materials making it tear and puncture resistant.
Half Face Respirator
Ensure convenient and reliable respiratory protection against mold and mold spores when working in a mold contaminated environment with the practical features and comfort of this halfmask respirator.
Contoured sealing flange eliminates pressure points
Extended side flanges ensure the best possible seal during talking or other facial motions
Reduced dead air space limits re-breathing of exhaled air
Low mask profile also provides ample room for safety glasses and goggles
Cartridges and filters sold separately
Manufactured in an ISO 9001 Registered facility
NIOSH approved
Particulate Filters
Our particulate filter provides 99.97% Protection from airborne mold fine particulates. Having an effective mask and filter system is crucial when cleaning or handling any fungal contaminates. We offer you the gold standard in affordable and effective respiratory protection with this disposable particulate filter.
Breath Easy With The Correct Mold Safety Equipment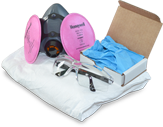 SAVE 20%
BioCide Labs Safety Kit
Half Face Respirator
Particulate Filters
Nitrile Gloves
Protective Suit
Protective Eyewear