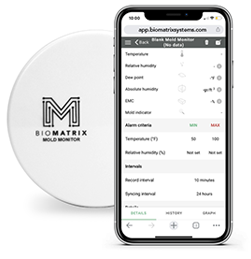 BioMatrix Mold Monitor
The Biomatrix Mold Monitor can predict and identify mold growth in your home or place of work. This revolutionary smart home-enabled system combines cutting-edge devices with an industrial hygiene team to help identify present and future mold contamination. Prevent mold from growing out of control with the Biomatrix Mold Monitor.
Is Your Home Making You Sick?
If you are afraid mold might be contaminating your environment and deteriorating your health, take this free, online health screen developed by Mold Test Company to help you learn the truth.
Mold Exposure Symptoms
After an environment suffers from water intrusion, it becomes susceptible to mold growth. There are more than 100,000 potential species of mold that can contaminate your environment, many can be classified as toxic black mold. Even when the mold is not outright toxic, exposure to these species will ultimately take a toll on an individual's health, leading to potential short-term and long-term mold exposure symptoms. We've compiled a list of these mold exposure symptoms and divided them into levels ranging from minor to severe, in order to help you determine the extent of your problem and decide if it's time to begin the mold removal process.
Level I.
Early Exposure to Mold
Headaches
Eye Irritation
Sneezing
Itching
Skin Redness
Skin Rash
Level II.
Advanced Exposure to Mold
Breathing Disorders
Nose Bleeds
Ear Infections
Chronic Sinusitis
Chronic Bronchitis
Pain in Muscles and Joints
Asthma
Nausea
Vomiting
Diarrhea
Coughing up Blood or Black Looking Debris
Neurological Disorders
Nervous Disorders
Heart Palpitations
Blurred Vision
Swollen Glands
Weight Loss
Chronic Fatigue
Loss of Appetite
Depression
Open Skin Sores or Lesions
Fungal Nails (Hands or Feet)
Sexual Dysfunction
Thyroid Conditions
Level III.
Long-Term Exposure to Mold
Blindness
COPD
Hypersensitivity Pneumonitis
Histoplasmosis
Memory Loss (long-term)
Bleeding Lungs
Kidney Failure
Liver Disease
Cancer
Death
Misdiagnosed?
The effects caused by mold exposure are often misdiagnosed; here are some common misdiagnoses:
Fibromyalgia
Rheumatoid Arthritis
Inflammation
Lupus
Histoplasmosis
COPD
Lime Disease
Hypersensitivity Pneumonitis
Mold Symptoms
In addition to the list of mold symptoms, Mold has been classified as a carcinogenic (cancer-causing) substance by both the Centers for Disease Control and Prevention (CDC) and Environmental Protection Agency (EPA). However, the effects can differ from person to person, contingent on the 4 factors elaborated below:
Mold Spore Levels
Mold-allergy symptoms can be intensified by a high concentration of mold spores, even non-prolonged exposure can induce severe symptoms when the amount present is above a certain range. This elevated spore count is determined by an inspector when the indoor mold-spore levels are higher than those naturally present outside.
Time of Mold Exposure
As shown by the chart mold symptoms severity can increase over time. Mold particulates have the capability to build up in the human body. The longer you live in a mold-contaminated environment, the higher mold exposure risk factors become.
Mold Toxins
Species of mold, like Stachybotrys (black mold), are capable of emitting dangerous substances known as mycotoxins, they are the reason mold is classified as a carcinogen by both the CDC and the EPA.
Immune System
Everyone's reaction to mold exposure will be different due to the capabilities of their immune systems to fight off environmental pathogens. However, whether your immune system provides strong or weak protection against mold's effects, environmental pathogens will wear down the immune system over time.
The Next Step
We can help identify possible mold exposure from mold allergy symptoms to mycotoxin poisoning with this helpful tool. Learn if you or your family are exhibiting signs of mold sickness.