Mold Bomb Spray
Mold Bomb Spray
Stop mold growth with the Mold Bomb Spray. This industrial-strength EPA-registered product was originally designed for professional use but due to high demand is now available to the general public. Mold Bomb Spray kills a true 99.9% of all mold, bacteria, and viruses. Our EPA classification of "hospital-grade disinfectant", makes it one of the safest solutions to a mold problem on the market. This product comes in a large 16-ounce canister and works for manual spot treatment or will function as a continuous stream, making it quick and easy to treat everything in your environment. The application works great for hard-to-reach places like crawlspaces, attics, HVAC vents, walls/ceilings, basements, and contents. For professional-grade results, go with a professional-grade product that works, and use Mold Bomb Spray.
Easy to Use
16.5 oz Large Can
Hand Trigger Included
Mold Bomb Spray Blows Mold Away
Effective as:
Disinfectant, fungicide (even against Black Mold), Mildewstat, Tuberculocidal
Effective against:
Pathogenic Fungi (Mold), Mildew, HIV (AIDS Virus), Herpes Simplex Type 2,H1N1 Influenza A, and more!
We Talk You Through the Process
How safe are our products?
Our products are very safe to use in home and work environments. EPA has classified many of our products as hospital grade disinfectants. This classification makes them one of the safest antifungal antimicrobials available on the market today. BioCide Labs products are safely used in schools, daycares, food manufacturers, hospitals, and homes across the country. We pride our self on helping keep our clients home and work a clean and healthy place to be.
The Mold Bomb Spray Takes the Headache Out of Mold Remediation
Effortlesly dispense our effective formula with the spray valve button.
OR
Attach the included spray head for a more precise treatment.
Professional Grade Three Stage Process
Professional Grade Three Stage Process
For effective mold control, Biocide 100 must be used as a surface spray in conjunction with fogging and Air Scrubbing. See label text for complete directions for use and precautionary statements.
One case of Mold Bomb consists of six fogging canisters.
Contact us for wholesale pricing information. We are unable to ship this product outside the continental united states unless you make special arrangements, please call for further details.
Not available in the State of New York.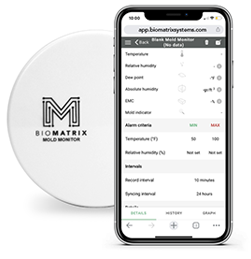 BioMatrix Mold Monitor
The Biomatrix Mold Monitor can predict and identify mold growth in your home or place of work. This revolutionary smart home-enabled system combines cutting-edge devices with an industrial hygiene team to help identify present and future mold contamination. Prevent mold from growing out of control with the Biomatrix Mold Monitor.
AirSafti Air Scrubber
The First Professional HEPA Filtration Designed for Homes.
AirSafti Air Scrubber filters down to 0.5 micros. Filtering out Mold Spores, Fine and Ultra-Fine Particulate, some Disease-Causing Bacteria, Pollen, Dust, Insulation Fragments and more. AirSafti Air Scrubber Eliminates Major Mold Spores from the Air in Minutes!