House Remediation Kit
kit includes:
18 Mold Bomb Foggers
4 BioCide 100 Gallons
1 AirSafti Air Scrubber
1 Safety Kit
We are unable to ship this product outside the continental United States unless you make special arrangements, please call for further details.
PRODUCT REVIEWS
Hey, my name is Thomas and I just wanted to say that not only was the mold bomb easy to use but it is a great product and I will be using it again in the future. Every member of the staff that I spoke with was knowledgeable and quick to answer questions. Thank you all very much and good luck in 2016!
-Thomas

After many failed attemts at removing the mold growing in our back yard shed I used the Mold Bomb Fogger with great success. After killing the active mold I then removed the remaining particles with the BioCide 100. Both products worked extremely well and left the space smelling fresh. I have since used the stain remover in my shower just as effectively as the other two products. I will keep all products on hand for any future need and look forward to tring new products from BioCide Labs.
-PMWilkey

All the components fit together very well. It took me about 10 minutes to get used to the face mask, then I hardly noticed that I was wearing it. This suit is very comfortable and the gloves and eye ware are pretty stander stuff. Overall the entire kit did a great job!
-Josh

I told my apartment complex there was mold in my unit. They did NOTHING! Actually, they told me to move out and they'd sue me for the balance of the rent. I had no real money to move as I am on fixed income and have no one to help me. I looked all over the internet and found BioCide Labs. The man was very nice and told me about the AirSafti Air Scrubbing machine. So, I took a chance because I had no other real choices. It was the best decision I ever made. The machine keeps my apartment air clean and I don't feel the mold any more. I am still trying to move out, but right now this machine is saving my health.
-M. Streug

We Talk You Through the Process
The prospect of beginning a mold remediation project can be intimidating. We at BioCide Labs understand that and can walk you through the entire mold remediation process step by step over the phone. Our trained experts are here to assist you from start to finish.
How safe are our products?
Our products are very safe to use in home and work environments. EPA has classified many of our products as hospital grade disinfectants. This classification makes them one of the safest antifungal antimicrobials available on the market today. BioCide Labs products are safely used in schools, daycares, food manufacturers, hospitals, and homes across the country. We pride our self on helping keep our clients home and work a clean and healthy place to be.
Click to learn more about the products in the House Remediation Kit.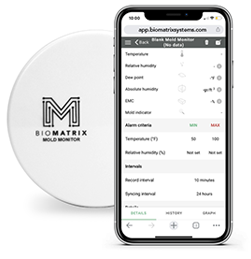 BioMatrix Mold Monitor
The Biomatrix Mold Monitor can predict and identify mold growth in your home or place of work. This revolutionary smart home-enabled system combines cutting-edge devices with an industrial hygiene team to help identify present and future mold contamination. Prevent mold from growing out of control with the Biomatrix Mold Monitor.